GRP Cutting & Drilling Service
Here at DeckSafe we offer a GRP cutting service which means we can cut and pre-drill our products to suit your requirements saving you money and time onsite. Using precision tools, we will ensure your product has perfect angles and evenly space holes. This enables your project to fit perfectly together.
We calculate the prices based on how long it takes, how large the order is and how complicated the requirements are. For example, if you are needing a simple straight cut on a decking strip, it will take a few minutes, but if you are needing 100 decking strips cut, it will take a lot longer. Similarly, if you want a shape cut from a piece of grating, that will take a few hours.
To discuss your requirements please contact us here.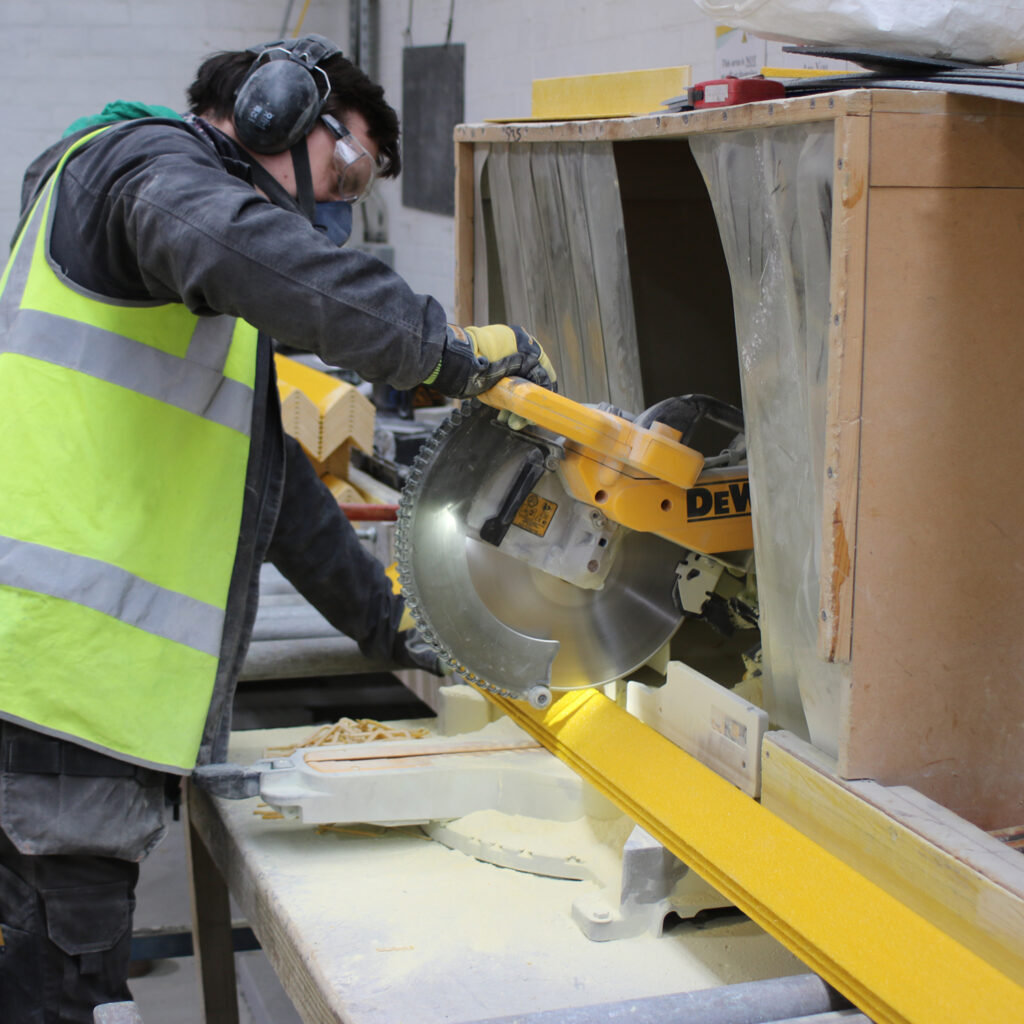 How do you cut GRP?
You can cut and drill GRP yourself at home, however, you need to make sure you have the suitable tools. The first step is to make sure the tools you choose work with stone or brick. This means picking diamond-tipped or tungsten carbide drill bits or blades. The glass content in our products makes it behave more like masonry than timber. You can then use a chop saw or a jigsaw (pick depending on what will cut your shape the best) to cut your GRP into the shapes you need.
Place the panels face-down to enable you to cut from the back. Place them one at a time on your cutting table or on a pair of sawhorses. You can then clamp them down if its needed. Make sure you cut from the back otherwise you may end up with chips on the front which can then cause the blades to catch on the embedded quartz crystals. Cut along the mesh to avoid 'fingers' being left.
Make sure to wear PPE before making cuts to protect your eyes and to prevent any particles getting into your lungs. Protect your hands with a pair of gloves and use earplugs to protect your ears from the noisy tools. Since GRP particles can be itchy and irritating you should choose well-fitting gear to prevent the particles from getting embedded in your eyes, skin and respiratory system.
Source: https://www.wikihow.com/Cut-FRP-Panels
Other services we offer include; Design, Build, Install, Supply, Export Services and QuickQuotes.
Find out more
Get in touch to discuss your cutting requirements
Mon-Fri 8:30am to 4:30pm