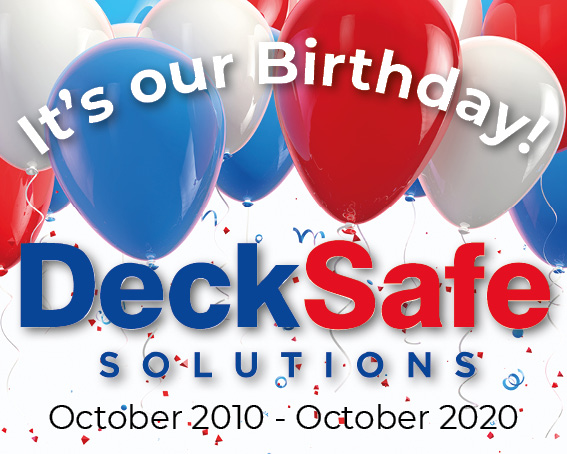 Company news
DeckSafe is 10 years old in October 2020 and we are celebrating with a mixture of events, nostalgia and forward thinking.
The traditional gift for a tenth anniversary is tin – not particularly relevant to a business specialising in GRP (fibreglass) but, determined to make it work, we'll spend the month bringing in tins of food to be donated to the Trussell Trust Colchester Food Bank. We pride ourselves on being a local company with an international presence; helping a local charity feels like the perfect way to mark our success – especially in the current climate.
For staff to enjoy, we're having a 'Guess the Number of Sweets in a Tin' competition – proceeds will be added to our recent MacMillan Coffee Morning. And of course, no celebration should be without a little fizz so we're also inviting our customers and contacts to enter a free prize draw; we'll have ten green bottles of Prosecco to be sent to ten lucky winners.
DeckSafe Solutions was created in 2010 when our sister company, Step on Safety, recognised that the unique requirements of water-based industries need unique solutions and some very specialist expertise. While there is still a little crossover, the DeckSafe team now take care of our marine, offshore, aviation and utilities clients (water, gas, electric and nuclear). From WPC decking used to rejuvenate luxury marinas to phenolic mesh grating for use on oil rigs, we have a rust, rot and corrosion-proof anti-slip answer to all access issues.
Ten Top Projects
We asked the team what the highlights of the last ten years have been for them:
Heathrow Airport 2019 – We were asked to provide extensive rooftop walkways across Terminal 3's Emirates First Class Lounge. The structure of the building meant that the 600m walkway had to be lightweight – making GRP the perfect material. Working airside required a whole new set of processes to be put in place to meet the safety and security requirements and much of the work was done at night to minimise disruption to to staff and travellers.

RNLI Station Access Ramp – We were approached to design, manufacture and install a new anti-slip surface to the access ramp at Tower Lifeboat Station on the river Thames in central London. The team came up with a cost-effective design for a new ramp surface utilising our solid top GRP grating. However, the location and age of the steel structure created several challenges during installation which, with close liaison with the client, we managed to successfully overcome. As a result, the RNLI now have a brand new, non-slip ramp that can be safely used in all weathers.

World War II Attraction – The client asked us to provide a slip-resistant solution to their slippery timber decking around a prestigious U-boat attraction. Our DDA compliant Quartzgrip® Decking Strips installed by our own expert fitters, ensured over 450sqm of timber decking was slip-free, allowing the public to view the submarine in safety.

Gritter Depot – A busy gritter depot needed safe height access to wash down the lorry beds. The project was to replace an existing platform and staircase made from scaffolding poles, but due to the nature of de-icing grit, a corrosion-free material was required. We were commissioned to design, fabricate and install a bespoke platform to provide safe access for operatives to 'wash-down' gritter lorries after each shift of road gritting during the winter months. Our high-strength, GRP profiles and slip-resistant grating was a perfect alternative.

Captain Cook's Historic Ship – A replica of Captain Cook's ship was transformed into a floating museum to mark the 250th anniversary of Cook's expedition to the Pacific. A gangway connecting the quayside to a restaurant on board the ship needed to be made safer for public access. DeckSafe Solutions supplied GRP mini mesh grating to create a corrosion-resistant, high strength, lightweight and anti-slip walkway.

Ship Refurbishment – A challenge was set to create an anti-slip surface on a working vessel. Our client, who builds and repairs large work vessels, asked us to re-surface one of their ships with our marina grade mini mesh to make it safe for the crew to move around. We accepted the challenge and our fabricators and installers came through and successfully fitted the mesh. The ship is used in the harshest of weathers with salt water covering the deck at times, but the GRP mesh is perfectly suited to this and remans sturdy and anti-slip.

Leisure Marina Pontoon – The marina had an old timber pontoon and gangway which had become unsafe and slippery. DeckSafe needed to supply an alternative to traditional timber. We supplied and installed RecoDeck® WPC Anti-Slip Decking Boards which is lightweight, non-corrosive, requires no maintenance and has a much longer life span than wood.

Petrochemical Works – Our client's historic use of inadequate access such as ladders and cherry pickers was proving costly, time consuming and hazardous for the ongoing maintenance of the tanks and bund areas. The client asked DeckSafe Solutions to provide an access solution that avoided the inherent problems associated with traditional materials such as steel, timber and concrete. Specialising in composite materials, DeckSafe designed, pre-fabricated and delivered easy-to-assemble GRP Ladder Access Platforms (for tank access) and GRP Step Overs (for bund access). DeckSafe's GRP Anti-Slip Open Mesh Grating was chosen for all flooring and stair treads with DDA compliant stair nosing to ensure the structures complied with Document M+K and the Equalities Act Guidelines.

Water Treatment Works – Our client needed a safe and reliable solution to a safety issue at their Works. The original steel grating needed replacing as it was no longer performing to the required standards. The machinery below the covers needed to be accessible by one person. Due to its complete resistance to corrosion, our Quartzgrip® GRP Grating was used to create hinged pit covers at the Water Treatment Works. With the added benefit of being slip-resistant and lightweight, the panels suited the application perfectly and continue to be used in many plants around the country.

Poolside Decking – A client needed an aesthetically pleasing, slip-resistant, durable material to use around the edge of their roof-top swimming pool in the heart of Chelsea. We knew that the product had to not only be up to the job but had to look the part and fit in with the ultra-modern roof-top area. We supplied three types of RecoDeck® WPC decking for this project to give a variety of textures and looks and the project was completed in two weeks.
What's next?
Looking to the future, DeckSafe Scandinavia will be launched in October. Our new Swedish partners will be providing our GRP Solutions to the clients in Sweden, Norway, Finland and Denmark. The fibreglass alternative to traditional steel has yet to be embraced by the Nordic market but we're confident that with the support of the UK team they'll have no trouble introducing it. It'll mean regular trips to Sweden to provide technical assistance and supervision but there are plenty of volunteers here willing to take the challenge on.
Hopefully the next ten years will be just as exciting.