Airside GRP Walkways
A well-positioned walkway or gantry can provide the most direct route from A to B without the need for navigating obstacles or climbing up and down steps or ladders. From a quick crossing from roof-top to roof-top to extended access for maintenance and cleaning crew, our GRP Walkways feature QuartzGrip® Anti-Slip Standard or Mini Mesh Grating and GRP handrails complete with kick plates to prevent tools and equipment from rolling off the edge.
Suitable for locations indoors and out, glass reinforced plastic won't rust, rot, warp or fade ensuring safe access with zero maintenance for years.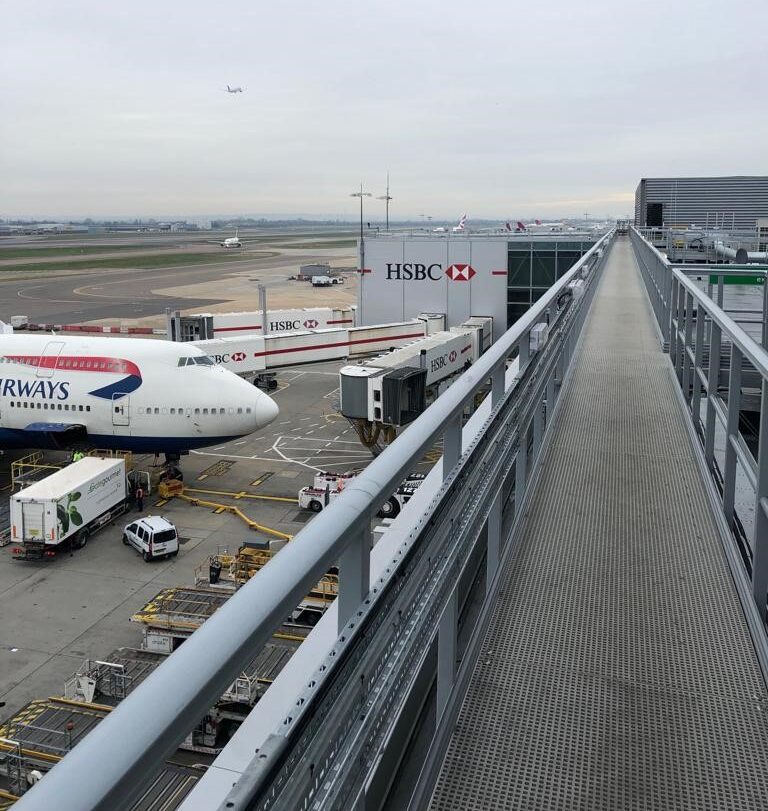 GRP Walkways weigh far less than their steel equivalents, making them ideal for roof tops. They don't need heavy lifting equipment to manoeuvre into position so are quicker and more economical to install. Once in place, the Glass Reinforced Plastic will never rust or rot, it's UV stable so won't fade or need painting and is impact resistant so won't get dented by knocks or dropped equipment.
DeckSafe Walkways and Gantries can be constructed using 38mm QuartzGrip® anti-slip GRP Grating and can be supported by GRP Structural Profiles. We can add Staircases or Ladders at each end, Handrails and kickplates can be added to keep pedestrians safe and to prevent items being dropped over the edge.
If you'd like us to visit your site to discuss the access solutions we can provide please get in touch.
We offer a variety of other solutions in the Aviation industry. These are; Access Platforms, Handrail, Roof Top Access, Staircases and Step Overs.
Find out more
See how we can improve your site access
Mon-Fri 8:30am to 4:30pm