Ladders for Marine & Harbour Applications
If a staircase isn't a viable option, fixed GRP Access Ladders can be made to suit exact requirements. Built using anti slip GRP materials, access ladders are a long-lasting, low-maintenance solution in any marine or harbour location. Choose from an upright Cat Ladder with optional safety hoops or a Ships' ladder which is built at an angle complete with handrails. This solution is ideal for piers and harbour walls.
GRP Cat Ladders
Our Cat Ladders are built using our GRP Box Profiles and pultruded profiles. We design them so they can be fixed vertically to a wall or a platform, we can then add safety hoops if the height of the ladder is 2.5m or more. We can add Self-closing Safety Gates to help prevent trips and falls.
GRP Ships Ladder
This type of ladder is perfect for locations that don't have the space for a staircase, but a Cat Ladder isn't suitable. These ladders can make vertical circulation more comfortable in mechanical or service spaces. They usually include a handrail on one side.
Benefits of a GRP Ladder
Manufactured from pultruded structural sections
Resistant to corrosion, non-conductive and non-magnetic
Anti-slip surface
Suited for use in typically corrosive environments, including salt and fresh water marinas
Manufactured in accordance with BS 4211 and BS 5395.
Ideal to provide safe access to raised or underground areas
Our GRP Access Ladders are designed and built to suit specific requirements
Not ready to trade in your existing metal or timber ladders? We'd recommend considering our Anti Slip Ladder Rung Covers as a short-term solution.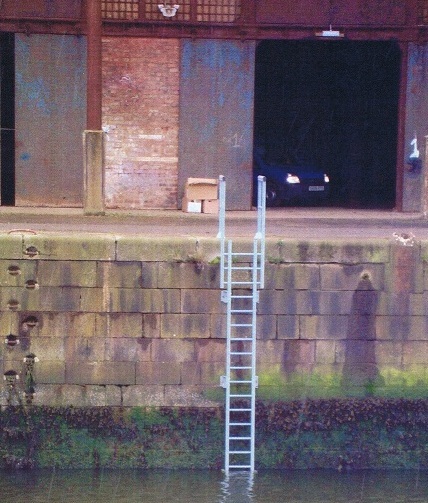 If you'd like find out more about the ladder options available please get in touch.
We also offer a variety of other solutions in the marine and harbour industry, including, Mobile Access Platforms, Pontoon Decking, Walkways, Access Ramps, Composite Decking and Handrail.
Find out more
Contact our team here
Mon-Fri 8:30am to 4:30pm