GRP Access Stairs
Whether you need one or two steps to a doorway or maintenance platform, or a multi-storey staircase to reach a roof-top or mezzanine floor, DeckSafe's GRP Access Stairs offer an anti-slip, low-maintenance and low-noise solution.
Non-corrosive and UV stable, they are ideal for replacing slippery metal or rotten wooden steps. Fibreglass Treads, Handrails and Structural Profiles never go rusty, never fade and never need painting.
Every Staircase is designed and built to meet your specific requirements, ensuring all Health & Safety guidelines are adhered to. Access staircases over 3.5m high will automatically have a mid-point landing which you can then use to create a change in direction if it is needed. We also have the option of providing safety gates or safety chains.
As standard, every staircase we supply includes contrasting Stair Nosing, continuous handrail with kick-plate on any landings and has a minimum Safe Working Load of 5kN/m2.
Additionally, you can add Tactile Plates to the top and bottom to make it more accessible to the visually impaired.
These stairs are then built in our Suffolk workshop by our team. It's then shipped in sections to your site for quick and easy installation – by us or by your own team. For a rough idea of costs, our QuickQuote Calculator will help you get started.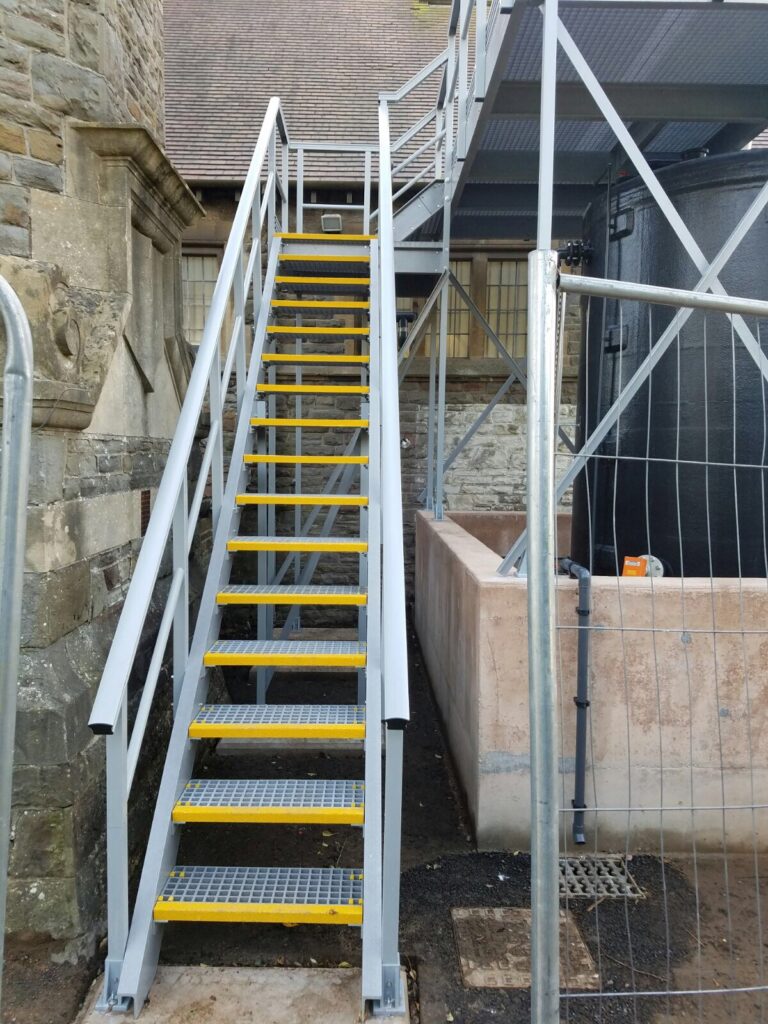 Get started on your project by completing our QuickQuote form or try our online calculator here. You might also be interested in our Access Platforms.
We have a variety of other access solutions to offer in the utilities industry, including, Bund Floors, Maintenance Platforms, Step Overs, Machine Guards, Mobile Access Platforms, Sump Covers and Access Ramps.
Find out more
Call today to discuss your access requirements
Mon-Fri 8:30am to 4:30pm